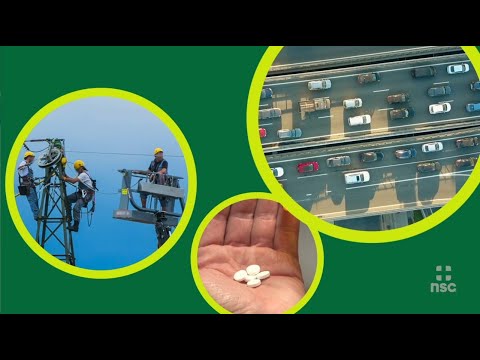 We are excited to unveil a new look for our next chapter of safety leadership. Our new look pays homage to the heritage of the green cross while incorporating a modernized appearance representing the four NSC values as symbolized by the four corners that, together, form a cross. The NSC values are: Be Safe - a commitment to our mission of safety; Be Bold - to challenge the status quo; Be Impactful - to exceed expectations; and Be NSC - to collaborate with others to achieve results. While our logo has changed, our commitment to safety is stronger than ever.
The National Safety Council is America's leading nonprofit safety advocate - and has been for over 100 years. As a mission-based organization, we focus on eliminating the leading causes of preventable death so people can live their fullest lives. We focus our efforts where we can make the greatest impact: workplace, roadway and impairment.
NSC starts at work – where people put everyday strategies in place to solve problems. We give companies resources workers can actually use around risks they are actually facing, or will be. We create a culture of safety to not only make people safer at work but also because it has the potential to make people safer beyond the workplace. Research shows safer workplaces save money and increase productivity, but more importantly, they create a mindset that values safety.
NSC has a long history of convening with its unparalleled network of safety leaders to make people's lives safer on and off the job. We tap the expertise, talent and passion of our network to develop research and ready-to-use toolkits to help companies tackle important issues affecting their workers. Every one of our employees, member organizations and strategic partners have one thing in common: a commitment to enable people to live their fullest lives.
NSC uses research and data to drive better, smarter, more personal safety programs. From perception surveys and assessments to tracking the trends, we use our insight to create real, usable, experiential education, training and tools to mitigate risk. We also engage government across national and local levels to advocate for awareness and drive polices that create a culture of safety.
In addition to offering best-in-class workplace safety training, both in-person and online, we spearhead Work to Zero to leverage technology to make workplace deaths a thing of the past. Thousands of companies – Fortune 100 corporations, small businesses, nonprofits and community service agencies – rely on NSC to educate their employees to keep themselves and others safe, from the workplace to anyplace. We train 500,000 First Aid responders every year. Plus, members find a wealth of resources from NSC to help them solve their unique safety challenges – from perception surveys to assessments and the personal support of our staff.
From a roadway standpoint, we lead the Road to Zero Coalition to eliminate traffic fatalities by 2050 as well as a number of initiatives to make the roads safer for you and your loved ones. Our Check to Protect coalition has led to the resolution of countless safety recalls on vehicles nationwide, reducing risks to drivers. For more than 20 years, NSC has managed the National Child Passenger Safety Board, helping certify more than 165,000 technicians to ensure children are secured safely on every ride.
NSC also offers best-in-class driver training, both in-person and online, training more than 75 million drivers in all 50 states and around the world.
And NSC sponsors Distracted Driving Awareness Month each year to educate drivers about the importance of attentive driving. In 2009, NSC became the first organization to call for a complete ban on all cell phone use for all drivers. Since then, and thanks to our advocacy efforts, 48 states plus the District of Columbia have enacted texting bans for all drivers, and 21 states plus the District of Columbia have passed legislation making it illegal to use a handheld cell phone for all drivers.
We ensure people are ready to work and drive safely by identifying and mitigating the leading causes of impairment. We define impairment as the inability to function normally or safely as a result of a number of factors - from chemical substances, like alcohol, opioids, cannabis, to physical factors, like fatigue as well as social factors and mental health wellbeing.
As a 501c3 nonprofit, chartered by Congress, with local Chapters, global networks and more than 50,000 members, NSC relies on philanthropic funds to advance our mission to keep people safe from the workplace to anyplace.
Safety History
Over the past century, through the combined efforts of the safety movement, great progress has been made in addressing hazards by implementing better design, working conditions and accountability. As a result, we are better able to protect our most important assets: people and the planet. This interactive timeline commemorates 100 years of safety, advocacy and innovation. There is still room for improvement, but we are proud of the progress made.
NSC Values
Be Safe

I commit to keep myself and others safe.

Be Impactful

I exceed expectations for all those I serve.

Be Bold

I challenge the status quo to realize greater impact.

Be NSC

I work with others to achieve NSC results.